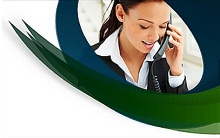 Grandstream Dubai - IP PBX ,VC & CCTV
Grandstream known to be Big on features and small on price.Grandstream offer Telephone systems ,Voip Phones , Voip Gateways, Video Conferencing and CCTV security products.All products are fully compatible with the SIP standard and broad compatibility with 3 rd party sip products in the market.These products are innovative affordable,and high quality IP voice, video and CCTV products for worldwide telephony,VC and Security market.Grandstream is consistently recognized in the VoIP industry for their innovation, affordability and superior value in their products. Grandstream is headquartered in USA and continue to to provide innovative ,quality products to the Voip market .We are partnered with Grandstream and offer affordable telecom products to our customers.We always ensure our customers have the currect system in place that has the features they require, but also allows you to communicate with customers and prospects without interruption.
Grandstream PBX
Grandstream communication solutions are solution is more than an ordinary office telephone system.Upgrade your business phone system to Grandstream and benefit from a full suite of business communication features with a low upfront investment.With Grandstream PBX Experience an all-in-one solution with advanced features typically associated with a more expensive phone system.When you opt for Grandstream phone system you can enjoy the Video Conferencing and CCTV product all integrate with the PBX with easy integration.
The truth is that selecting an office telephone system is not as easy as it once was. There are many different telecommunications providers to choose from, with a number of telephone systems packages and features.
owever, the office telephone system that any company selects, needs to be dependent upon factors such as:
The size of the company
The number of phones needs
The number of lines, connections, and extensions
The type of features
It is pretty sure that Voip Telephone system is going to stay in the future. Choose a full-featured Grandstream office phone system for small and medium size businesses. Its an easy to use, powerful Voip phone System that can reduce your telecom costs by interconnecting your geographically displaced offices. Improve your office communications for increased productivity with Grandstream PBX System.We are specializes in the installation and integration of business phone systems and matching innovative technology with professional experience and efficiency..

Grandstream Phones
Grandstream offers a range of IP telehones in order to ideally suited for each business and user type. Grandstream Phones best suited for small business to Enterprise communication as well as DECT Cordless phones. Grandstream IP Phones are trusted and deployed largest enterprises and Voip services around the world.As a Grandstream distribut & Grandstream supplier we can offer best prices available in UAE.Today, technology has evolved to make it possible for smaller businesses to gain the competitive advantages of a sophisticated business communications solution without the huge expense.Grandstream PBX and Grandstream Phones are thew perfect examples for that.Grandstream IP Phones are excellent choice for companies that want the results & stebility without the hassle.

Grandstream IP Phone offers rich telephony experience with superior sound quality. It improves your communication with video support to cut your travel costs. As the VoIP Phones are ideal for small to medium businesses in terms of functionality, the Budget Tone from Grandstream proves to be perfect for home, office and residential communication needs. The Grand Stream products are rich in advanced features which is necessary for today's business. While offering cutting-edge solutions, these phone remain traditional to provide an exclusive user experience.

Grandstream Video Conferencing System
Grandstream GVC3200 Video conferencing system is a game-c system which combines the effectiveness of SIP, the simplicity of a plug-and-play platform and also the unrivaled strength of Android to produce video conferencing and telepresence as effortless and versatile as it ever was before. By combining state-of-the-art hardware which has a built-in MCU with market leading flexibility and robust video features, the Grandstream GVC3200 Video Conferencing eliminates traditional video conferencing barriers and is the ideal solution to add video conferencing for your business.
Grandstream Conferencing Systems offer interactive telecommunication technologies which allow two or more locations to interact via two-way video and audio transmissions simultaneously. Grandstream video solutions extend the collaborative power of visual communication to anywhere you work, and make it simple for you to meet face-to-face with colleagues, partners, and customers.The most important benefits of implementing Grandstream Conferencing System are the significant cost and time savings coupled with the reliability of the technology. These benefits are made all the more important as they directly relate to people's lives.

Grandstream SIP CCTV
Grandstream offer CCTV camera products including IP Cameras,NVR, Video Management software and Video encoders.Grandstream CCTV products cover entire range needed for video surveillance solution.Grandstream IP Cameras are coming in both indoor and outdoor versions, best suited for both home ,office CCTV Security.Along with Video most of the models support Audio. The SIP Protocol support on CCTV Cameras allow high quality audio and easy integration with your office telephone system.
The Grandstream Network video recorders support dedicated video recording as well as remote live monitoring .Grandstream CCTV Solutions are best suited for medium businesses, retail locations, warehouses and residential users.